Hotel Info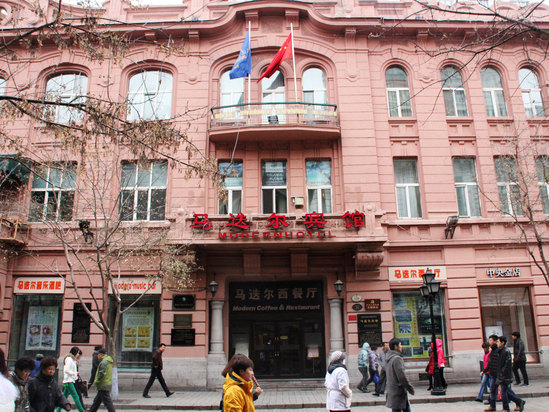 Modern Hotel Harbin
is located in the central area of the pedestrian street of central street, a famous historical and cultural street in China. It is adjacent to the beautiful Songhua River, the sun island and the ice and snow world in the north, and the ice lantern garden party (Zhaolin Park), Sophia Church and the Chinese Baroque historical and cultural street outside laodaowai in the East.
The hotel was founded in 1906 by Joseph Alexandrovich kasp, a Russian Jew( Жозеф алессандрович) The building is a typical French 'Art Nouveau Movement' Louis XIV style building. The name of the hotel is in Italian and Russian" мардир ", It means modern, fashionable and modern. There have been many important events in history and many celebrities have stayed in the hotel, so many celebrity rooms have been reserved. The hotel has a variety of rooms, Chinese and Western restaurants, German beer house, large and small conference rooms and banquet hall.
Madiel hotel has been awarded the title of 'time honored brand of China', 'provincial patriotic education base' and 'former site of preparatory activities for the new CPPCC conference' by relevant units. The fifth batch of intangible cultural list units in Heilongjiang province include traditional Chinese food, Russian Western food and German Western food. The earliest Chinese food menu and Western food menu in Harbin are all produced by hotel teacher Fu. They have received many Chinese and foreign politicians and celebrities from all walks of life. They are the birthplace of Harbin food culture. The famous products include the mathier popsicle series, bread series, home brewed beer series and the 'Centennial celebrity banquet' series.
Breakfast price
: CNY88($12.3) / person
Breakfast time
: 07:00-09:30
Breakfast type
: Buffet (Western, Chinese)